[Tournament] The Major League, Championed by Celcom Arrives in Johor, Malaysia!
The Major League, Championed by Celcom, was announced by Livescape Group in collaboration with Beatnation on 17 August 2017. The highly anticipated Dota 2 tournament is slotted to happen on 20-22 October 2017 at EduCity Indoor Arena, Iskandar Puteri, Johor. This is the first initiative by Iskandar Investment Berhad (IIB) to establish Iskandar Puteri as the Esports hub of Southeast Asia. The team from Fallout Gaming was present to bring back all the details of this exciting new reveal.
Picture: The Major League, Championed by Celcom announcement banner
The current announced teams boast global talent: Ehome of China, Evos of Indonesia, Clutch of Philippines, and MVP Revolution of Kyrgyzstan; while the Malaysian team is still waiting to be revealed at The Major League Qualifier.
Zalman Aefendy Zainal Abidin, Chief Marketing Officer of Celcom, stated that "This is an exciting opportunity for Celcom to be a major part of an upcoming lifestyle sports category. Esports is immensely popular with the youth and Celcom is honoured to fuel this growing enthusiasm amongst the youth." He also expressed his support for the Malaysian Dota 2 teams.
Datuk Ir. Khairil Anwar Ahmad, President and CEO of IIB, commented that the Esports industry has been gaining a steady recognition and have seen a rapid rise in popularity and participation, especially here in Malaysia. "We are very happy to host Asia's premier Dota 2 tournament at our world-class indoor arena at EduCity Sports Complex in Iskandar Puteri. We look forward to making bolder steps in the creation of a stronger Esports ecosystem in Iskandar Puteri, and to future collaborations within the Esports scene in Malaysia."
Tony Nagamaiah, General Manager of Malaysia Major Events, noted that Esports are experiencing a huge growth in the region. "Malaysia with all its cyber infrastructure is perfectly positioned as a hub in Asia." He also claimed that strong participation from the gaming community across the ASEAN region will indirectly boost tourism. "Esports will also be featured in the upcoming Asian Games 2018 and Malaysia Major Events hopes to see more of such events coming to our shores." he said. " We are proud to support The Major League, Championed by Celcom for the very first time."
The event was also attended by Dota 2 cosplayers for photo opportunities.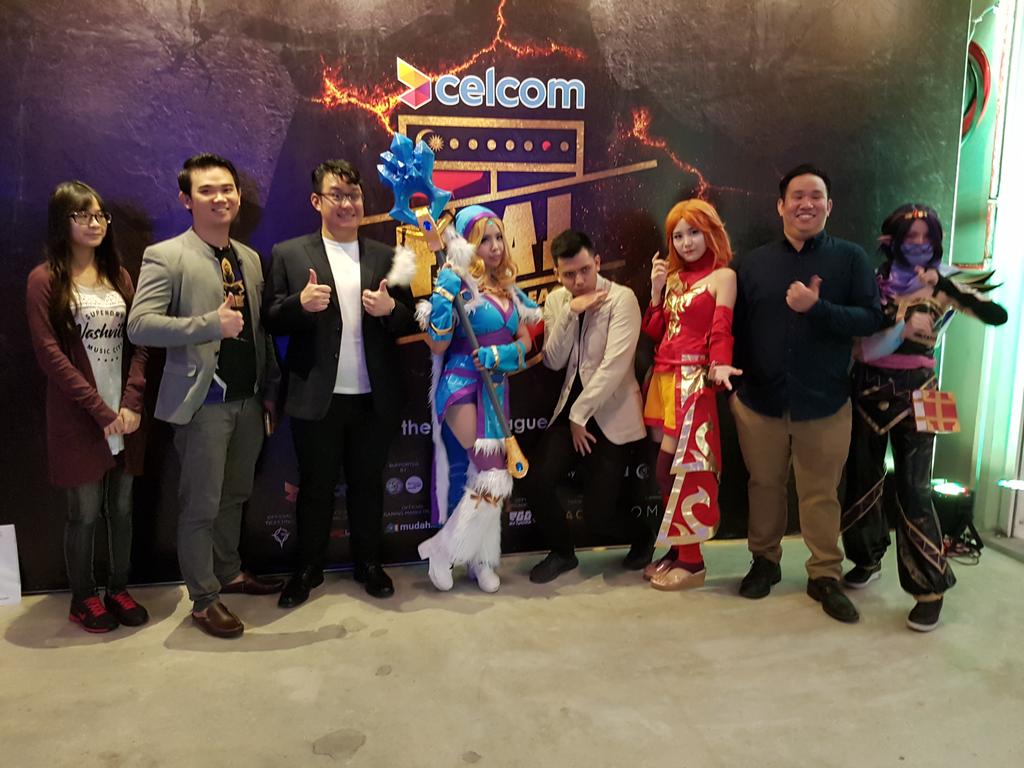 Picture: Cosplayers at the event. Taken from TML Twitter page.
The organizers, Livescape Group and Beatnation, also stated that tickets for The Major League, Championed by Celcom, are available for purchase on the official website, www.themajorleague.asia.
Picture: The crowd at the announcement event.
The Major League, Championed by Celcom is powered by Iskandar Investment Berhad and proudly sponsored by Celcom Axiata Berhad, EduCity, Mudah.my, Omen by HP, Logitech, EGG Network, Warlord, and Packist and is proudly supported by ALIFE and Malaysia Major Events (MME), a division of the Malaysia Convention & Exhibition Bureau, an agency under the Ministry of Tourism & Culture, Malaysia.